THE DANISH COASTLINE

Denmark is a small country but with an extremely long coastline. In fact, it's one of the longest in Europe, with 7600 kilometres circumscribing 500 islands and outlining the peninsula of Jutland. The total area of the country is 43,000 km2, and with a population of 5,5 million. Denmark can be described as a very flat country with a smooth and slightly rolling landscape.

Where smiles grace the Danish coast and open their embrace, when sunlit waves and summer clouds and ships of delight brace the Sound in the company of one another…

Johannes V. Jensen "Where Smiles Grace the Danish Coast", 1925.

» PDF (0,181Mb)


THE BELLEVUE OF ØRESUND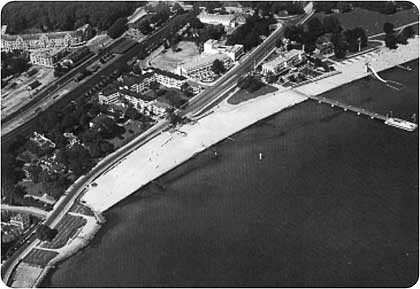 Øresund is the gateway to the Baltic Sea. This body of water is one of the world's busiest seafaring straits and is imperative to the surrounding infrastructure. The shores of southern Sweden and eastern Denmark frame the Øresund, and provide a comfortable and attractive place to live. At the southern end of the Øresund you find Copenhagen, the capital of Denmark. 10 kilometres up the coast, to the north, you find the seaside area known as Bellevue. Bellevue was the name of a former manor house that once occupied the site: the name is French for 'beautiful view', which was once a common name for villas and manor houses. Bellevue faces the Øresund, and is adjacent to Dyrehaven, the royal hunting grounds. The forest grounds have for centuries served as a popular recreational area, with ancient springs that run through the forest and down to the sea. This is the setting from which the Bellevue beach resort was to emerge.

» PDF (0,58Mb)


THE COTTAGE PARK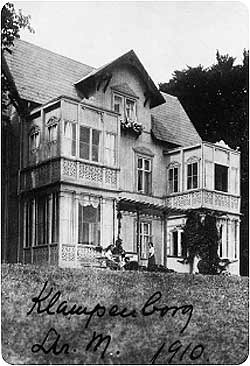 In 1845 the new mantra for the Copenhagen bourgeoisie was hydro sanatoriums. Spring waters were said to have extraordinary medicinal powers, and health spas began to pop up throughout Europe. The Bellevue site, with the nearby natural springs and forest backdrop, was a perfect place for a sanatorium. The site corresponded very well with the 19th century romantic perception of the encounter between man and nature in a formalized landscape.
The distinguished architect M.G. Bindesbøll (1800-1856) was given the task of drawing up a plan for a spa bath. He appended the area with 15 cottages, each one different. The different cottages housed restaurants, a patisserie, spring water, cigar and fruit stands, accommodation, showers and a large ballroom. The ballroom was the centre of the establishment and was one of the reasons for the transformation of the Cottage Park from a strictly medicinal spa into a recreational area. For many years it was a great attraction for the philandering daughters and sons of the bourgeoisie. But, as always, people are frivolous; times change and former patrons find other places to amuse themselves. Gradual decay of the buildings finally led to the demolition of the Cottage Park establishment in 1937.

» PDF (1,8Mb)


BEACH LIFE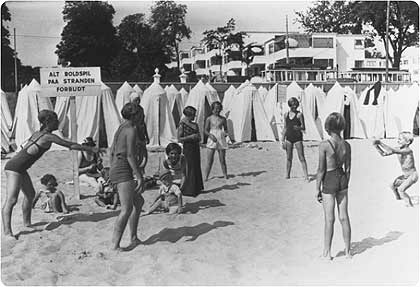 In the 1930s holidays were introduced as a legal right in Denmark. Living conditions in the cities were often wanting: extremely small apartments, lacking in sunlight and fresh air, were the breeding grounds for diseases, such as tuberculosis and rickets. Beach life came about with the general recognition of the beneficial qualities of the sun and sea to one's physical and mental welfare. The beach was recognized as a plentiful natural Danish resource fulfilling the need for leisure and recreation.

The beach is a public playground where people gather and are at ease, sharing the hope of a glorious future. You are completely independent of time and place, and therefore freed from ties to the past. It is, indeed, a modern way of living.

At the Bellevue beach complex visions of the future became a modern reality. The exhilaration of the bathing, the body and the exercise was mixed with the taste of fresh fruit from exotic places, sold from a kiosk. The beach was even frequented by the world-famous star Josephine Baker and Count Abatino, who enjoyed the beach in the summer of 1932. Bellevue became a virtual stage for modern life, giving everybody a role to perform.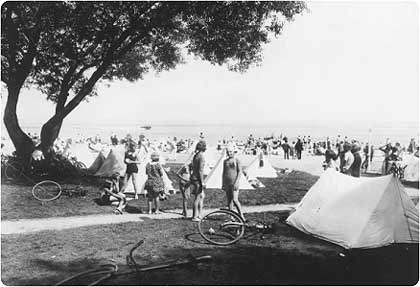 The stomp of pedals towards the glittering sound,
off with clothes, thousands of couples.
Gramophone music and giggling girls,
goodbye factory and office with your dusk!
Here we have forgotten all.

From the poem "Dyrehaven" by Poul Henningsen, from a 1937 radio broadcast.



» PDF (2,5Mb)
» PDF (2,5Mb)


THE ARCHITECT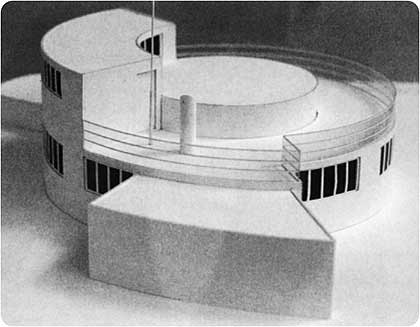 Arne Jacobsen (1902-1971) was the architect of the new and modern Bellevue and a pioneer of modern movement architecture. Educated at the School of Architecture at the Royal Danish Academy of Fine Arts, he was well acquainted with the architecture of M.G. Bindesbøll. As a student he even designed a project for a seaside hotel close to the Cottage Park. Two years later he won a gold medal for a project for a National Museum on the very same site.

Jacobsen's career breakthrough came in 1929, when he won the competition for an exhibition for the "House of the Future" together with his colleague Flemming Lassen. With this visionary project he broke with tradition, and moved towards the international avant-garde.

Throughout his long career Arne Jacobsen designed a wide range of outstanding private and public buildings. Bellevue, however, continued to be a point of return, from his early student work to his final home.

However, probably most well-known and widely cherished is Jacobsen's industrial design of furniture, cutlery, lamps and textiles.

» PDF (3,5Mb)


BELLEVUE 1930-38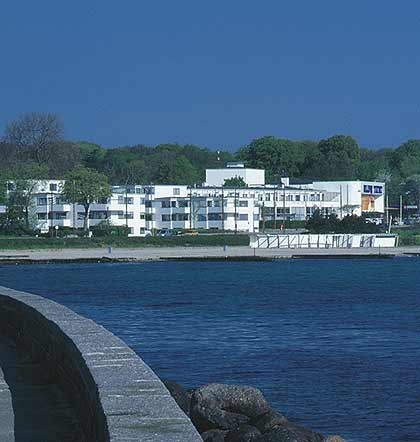 The quest for recreation by the growing masses called for physical as well as social solutions and change. A political initiative provided the pre-requisites for creating a beach at Bellevue. The idea was to combine a park, already designed by well-known landscape architect C.Th. Sørensen, with a beach where you had to pay to enter. Three architects were invited to submit plans for a Bellevue beach complex. The winner was the young architect Arne Jacobsen.

In June 1932 the Bellevue beach was inaugurated by Danish Prime Minister Stauning. It immediately became the most popular summer resort in Copenhagen. A direct return tram ticket from the city to Bellevue, including the beach entrance fee, was at the affordable price of 30 øre (less than five cents).

The design concept for the beach was all encompassing. The cubicle system could service 12,000 to 15,000 people a day. Beverage and banana kiosks, ice-cream stands, as well as lifeguard towers were part of the design. The graphic identity, signs, tickets, and disposables were all taken into account. This is an example of form and function as an all-embracing modern concept for the beach of the future.

» PDF (3,2Mb)


BELLAVISTA 1931-1934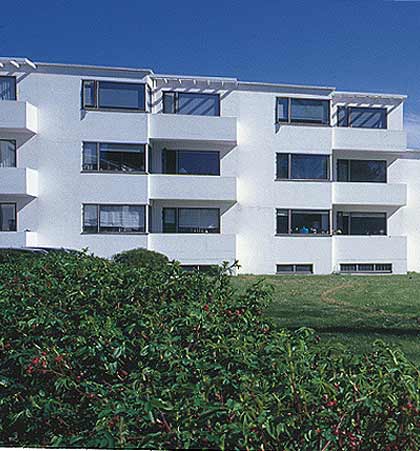 The residential area of Bellavista, positioned facing the sea, was already well advanced when the beach opened. Bellavista is a three-winged housing estate with modern amenities, such as central heating, garages and garbage chutes. It comprises 70 apartments with 1,2 or 3 rooms. All of the apartments are oriented with respect to the sun. They are also staggered, giving way to 2x3-metre balconies with a commanding view of the Øresund, while at the same time affording complete privacy.

Bellavista even included plans for roof-top gardens and tennis courts, but alas, these were never carried out. Bellavista's layout was based on the most up-to-date modern ideals regarding new architecture. Le

Corbusier's artistic view is an unquestionable source of inspiration, as are the strict pragmatic programmes declared by German functionalists, calling for light and air.

Bellavista was at the same time an unfolding of Arne Jacobsen's own idiom and architectural skills, in many ways a transformation of his then recent exhibition project the "House of the Future".

» PDF (3,1Mb)


SUN NOT SYMMETRY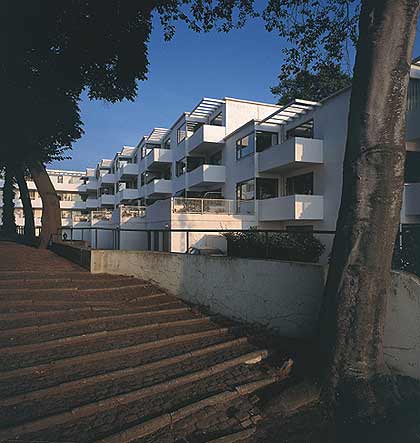 - What do you think of Mayor Kaper's fierce critique of your Klampenborg complex?
- We seem to speak two quite different languages.
- How about symmetry?
- Symmetry is not something I have any special sentiments about. For me it is a matter of placing the complex with respect to the Earth's four corners, so I can get as much sun, in the greatest number of rooms, for as long as possible.

And to solve this task in a reasonable way, it is not necessary to create symmetry in the sense that Mayor Kaper will have. But it is necessary to create balance in the façade and in the complex as a whole, and I have gone out of my way to do so.

If symmetry along the Strandvej should weigh Mayor Kaper's heart so heavily, then that can still be achieved!

We can just build one more Bellavista on the Hvidøre property - and find an axis half way for the sake of symmetry. There is nothing which should stand in the way of this. But the people who are to live in these buildings would have nothing to gain from this, their need for sun far exceeding that for exterior symmetry.

Arne Jacobsen interviewed by Esther Scheel in "B.T.", November 5th, 1934.

» PDF (4,4Mb)


HASH AND HIPPIES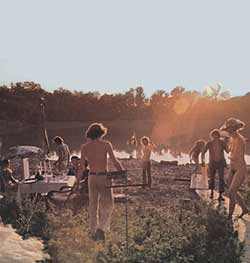 In Denmark the 1960s European youth rebellion took an odd turn. Copenhagen and Denmark became renowned for their sexual freedom and so-called "love-ins". These promiscuous happenings also found their way to Bellevue. A new law passed in 1970 mandated unrestricted access to the entire Danish coastline, thus eliminating restricted beaches with entrance fees. General conduct was now only a matter of common decency.

Many of the local residents complained about the behaviour on the beach, and a letter to the municipal Council of Gentofte in June 1970 shows a desperate attempt to rid the beach of marihuana-smoking and guitar-playing youth.

"…the beach administration no longer can exercise proper control of the bathers. There have been many cases ranging from nude-bathing by hash and hippie people and sexual intercourse in open view of the other beach guests, which must be seen as unfortunate for the children and youth of (this) municipality…"

While it was not possible to change the law, limiting free access to this beach, the problem seemed to vanish of itself. The hippie culture withdrew from the Bellevue beach and settled in other places such as the former naval base, the proclaimed "free state" of Christania.

» PDF (3,3Mb)