The Canton Vesco District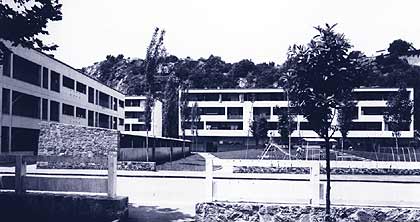 A first study of the area was presented in the plan for Ivrea in 1938. In 1943 a new plan presented Canton Vesco as one of three districts planned for 15,000 inhabitants each organized in less than 3000 units. The district was built in subsequent phases from 1943 to 1967: it was also the first example of urban renewal and the conservation of the modern architecture in Ivrea.

The first project to be realized in the Canton Vesco district was completed in 1943 by Ugo Sissa, who built the first three-storey block of 15 (rather) small flats for company employees. Another two three-storey block of flats were completed in 1945-46, designed by Sissa and the engineer Italo Lauro. Entrance to the flats in the first block was by means of long external landings while the second block was a mixture of two-storey flats and a landing on the top floor. The third block of flats, however, had a stairway block that served two flats on each level.

Seven buildings were built in the Canton Vesco district, comprising a total of 86 flats with 396 rooms. The work - carried out between 1943 and 1954 - was all directly financed by Olivetti. The four remaining houses were designed by Annibale Fiocchi and Marcello Nizzoli, both of them involved in the factory, the first as head of the Olivetti Technical Office from 1947 to 1954, the second as a consultant for architecture, colour plans for the factories and the design of typewriters. They used an already tested typology, in which stairway blocks were positioned along the north side of the buildings serving two flats on each floor. Similar to the blocks by Sissa and Lauro, those by Fiocchi and Nizzoli were also three storeys high. All these blocks have a concrete frame with brick infill. The fa┴ades are covered with white plaster, with coloured backgrounds similar to Le Corbusier's villas from the 1930s. The gable roof slopes lightly, but is hidden by a high cornice to simulate a flat roof.

With the contribution from INA-Casa, five four-storey blocks of flats (1952-54), designed by Fiocchi and Nizzoli, were built on the western boundary of Canton Vesco using traditional techniques. The architects also built seven two-storey terraced blocks with a garden and vegetable garden for each flat. The last five buildings on the western boundary of the district were constructed by the public housing agency of Turin with the design stage and technical assistance provided free of charge by Olivetti.

Canton Vesco was built in the form of a neighbourhood unit in order to construct a basic community: it was equipped with a suitable infrastructure in line with foreign models (especially British and Scandinavian ones) which were becoming common in Italy at that time. It was for this reason that a nursery school (designed by Ridolfi and Frankl, 1955-63) and a primary school (by Quaroni and De Carlo, 1955-63) were built in the district. Nizzoli and Oliveri designed the district church, the Church of the Sacred Heart (1955-63), on the southern boundary of the complex. Nizzoli also produced several studies for a recreation area (1951-53) but this was never built. In 1955-58 three housing complexes, financed by loans, designed by Luciano Giovannini were built consisting of a total of 23 flats and 119 rooms. A decade later in 1966-67, Ottavio Cascio and Emilio Tarpino were responsible for the last part of the project in the areas in the central section of the district that were still not built on: the two architects built two seven-storey tower blocks, the maximum height allowed under local building law. Designed to house large families, these blocks comprised four flats on each floor, with a total of 56 flats and 310 rooms.

╗ PDF (5,6Mb)


The conservation of the Canton Vesco District

The control instrument used by the authorities consisted of a "regulation" aiming to define the criteria for conservation and maintenance operations compatible with the formal and construction characteristics of the buildings identified in the catalogue. The aim of this regulation should have been to encourage actions ensuring the maintenance of the buildings in a condition as close as possible to the original (reconstructed on the basis of photographs, comparisons with other similar buildings, samples, etc.), while also enabling the realisation of the modifications needed to adapt the buildings to current legislation or to correct any errors in design or construction.

The chance to apply this experimental instrument came in the middle of 1997, with the decision to restore one of the most important residential districts realised by Olivetti, Canton Vesco.

The work of the administration of the Canton Vesco District - an area of about 149,000 square metres - achieved three objectives:

- to convince those who were in some way involved in the reconstruction site (owners, tenants, building administrators, planners, businessmen) of the need to apply a rigorous method for the preservation of the buildings
- to illustrate the logic and specific contents of the regulations
- to guide their application

This practice made it possible to return the buildings to their original appearance and to remedy the problem of physical and technological decay with costs no higher than those needed to do the same work in a manner less mindful of preserving and restoring the original character of the buildings.

╗ PDF (0,58Mb)

English language consultant: Gekko Design.