The EKA housing company, founded jointly by the Sunila, Karhula and Kymi companies, was responsible for building the following housing projects in 1938-39:

· Three 3-storey blocks of flats (named Harjula, Kivelä and Kontio).
· Two 3-storey stepped terraced houses with direct ground level access to the two lower floors (named Kontio and Päivölä).
· A service building, originally housing a heating plant and laundry, but nowadays also housing a sauna and community clubhouse.

The EKA area shows the development of Alvar Aalto's thinking regarding modest residential architecture. Aalto's preoccupation with building on a slope, applied along the contours of the landscape, produced the characteristic configuration of the so-called "ROT" building type (Rinne Ovi Talo = Slope Door Building).

The service building, built on a rocky slope, forms an architectural climax in the sense that the different building materials used in the area are gathered together in a sculptural composition.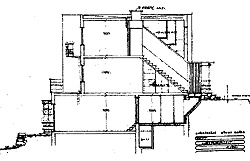 ROT building type section

English language consultant: Gekko Design.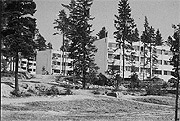 The Harjula, Kivelä and Kontio Blocks of flats
photo: Foto Roos1938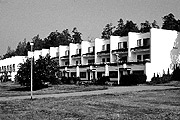 Karhu and Päivölä "ROT" type terraced houses
photo: Tapani Mustonen 2000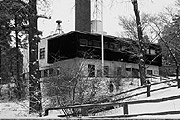 EKA service building: heating plant, laundry, sauna and community clubhouse
photo: RW 2000